First up, Happy Birthday Janet! I can finally show a couple projects I've been working on. Last year for Janet's birthday I sent her a center square and a piece of fabric I decided was sufficiently aged and it's time had come. I challenged her to add a round and to create her own center and send them both back to me for my birthday which just so happens to be six months and six days after hers.
Here is Janet's Round Robin. (Note: I neglected to take a picture of just her center square, or if I did, it's probably on the laptop and I'm too lazy to turn it on and hunt for it.)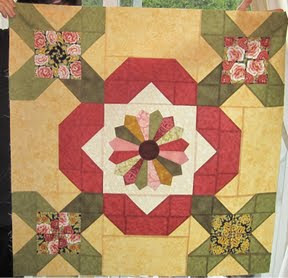 Her main fabric was a companion floral to the fabric I used in the corner squares. I used a floral stripe from the line to make the four patch posey squares. I worked on this shortly after receiving it in March and then put it away while pondering what to do with mine.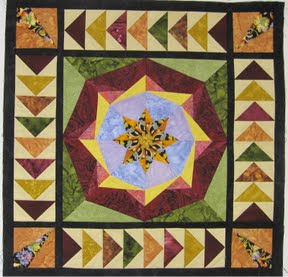 This is mine. I sent Janet the center square, out to the green. She added the flying geese. After a lot of wavering, I happened on a link to some really cool foundation pieced blocks. Sorry, I don't have the link handy right now.
After procrastinating way longer than I should have , and a few false starts due to not having enough fabric for my first few attempts, I finally ended up with this.
So, when I pulled Janet's back out to send off to her, I didn't like it. I think it needs something more, maybe some appliqué or something. But, time was against me so I sent it off anyway. When it comes back to me in March I will probably add some appliqué to those big gold areas.
Meanwhile, I have some serious catching up to do on the Farmer's Wife. Unfortunately it isn't going to be happening anytime soon. I've been doing some non-fun sewing in prep for our big, upcoming camping trip. Things like window screens for the bus. Door screen for the slider, porta-potty cover and an insulated cooler cover. I'd much rather have been quilting.
Happy Birthday Janet.
- LizA.
Posted using BlogPress from my iPad