I'm way overdue for an update on The Farmer's Wife Quilt Along. In all honesty, I haven't been working on it. But, here are the last 8 blocks I did before I moved on to more pressing items, like a certain Birthday Round Robin.....
I won't bore you with individual pictures but if you are so inclined you can find them on Flickr if you search for lizquiltz.
Meanwhile, I really do need to get back to that Birthday Round Robin...Ms. J's birthday is approaching much swifter than I realized....
And, just because it's been a whole month since I posted a picture of the Spotted One, here ya' go.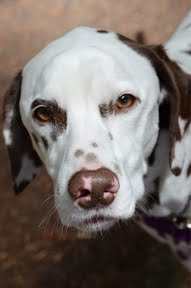 - LizA.
Posted using BlogPress from my iPad